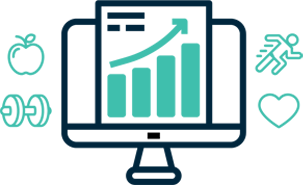 Get an in-depth look at the work we have done in the past year, including our impact in responding to the obesity and chronic disease epidemics.      
WHO WE ARE
As a nonprofit organization, the American Council on Exercise (ACE) educates, certifies and supports health and fitness professionals, and provides unbiased health and fitness information to help people live their most fit lives. We believe in what we do, and we want employees who do too. We're looking for health-conscious people who have a passion for helping others live better.
WHAT WE OFFER
At ACE, we work hard to live out our mission and ensure that team members are able to live their most fit lives by providing a healthy workplace. As a result, we have been named one of San Diego's Best Places to Work and one of San Diego's Healthiest Companies. In addition to a healthy environment, ACE offers eligible employees a competitive benefits package including health, dental and vision insurance, 401(k) retirement plan, generous vacation time and more. Located in San Diego, California, ACE is just minutes from the beach, mountains and desert, and abounds in outdoor recreational opportunities and resources. Oh, and did we mention we have recess?
Additional Benefits:
Paid professional development opportunities
Educational assistance
Onsite gym
Casual dress
Flextime
Workplace wellness programs
Community involvement opportunities
Discounts with participating health and fitness companies
Check out our Life At ACE page to learn a little bit more about what it's like to be part of the ACE Family.